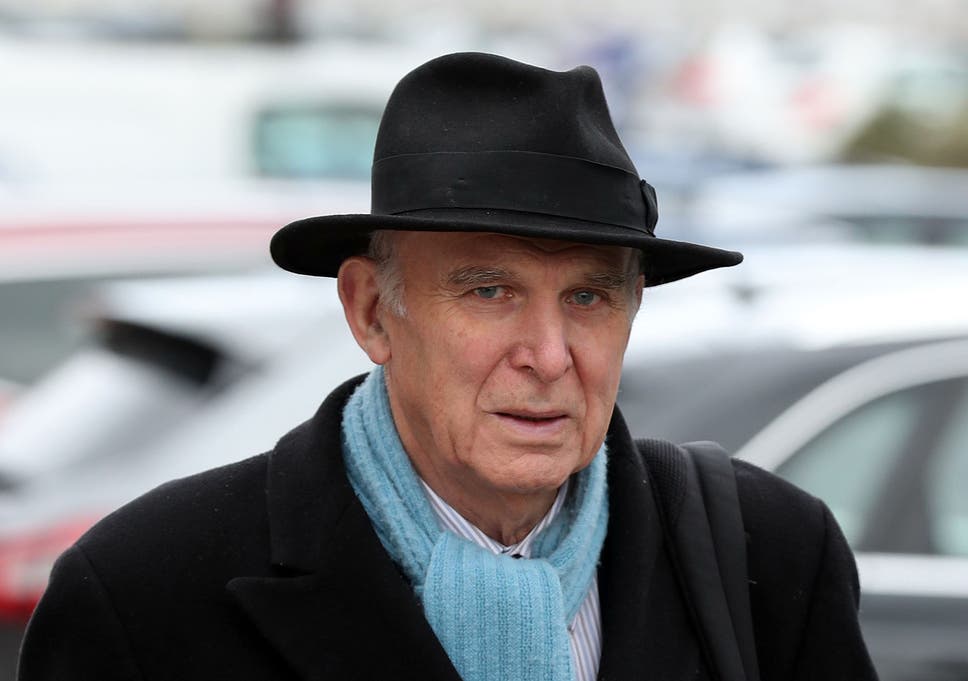 Vince Cable (Photo: The Independent)
Yesterday evening Vince Cable sent the following message to party members:

"
This has been a dramatic week in Parliament with Theresa May's Brexit proposals heavily defeated, and a very clear statement that a 'no deal' Brexit must be avoided. It is now clear that Brexit will be postponed, and very possibly stopped.
"The future is very uncertain but despite Labour's continued prevarication, there is still a real chance of securing a People's Vote and, indeed, of stopping Brexit.
"The fact that these possibilities are still alive is a great tribute to our Party. Unlike the Tories and Labour, we never saw it as our duty to 'deliver Brexit'.
"The tribute is primarily to you as members, for marching and campaigning so energetically. Thank you for securing the progress we have made.
"I indicated last year that once the Brexit story had moved on, and we had fought this year's crucial local elections in 9,000 seats across England, it would be time for me to make way for a new generation. I set considerable store by having an orderly, business-like, succession unlike the power struggles in the other parties.
"So I wanted you, our members, to know that, assuming Parliament does not collapse into an early General Election, I will ask the party to begin a leadership contest in May.
"At our spring conference this weekend, members will have the chance to make that contest the biggest and most open leadership election British politics has ever seen. It's a real opportunity for our party to seize the radical and liberal centre of British politics. We can and should invite hundreds of thousands of new supporters in, with the chance for us to choose a new leader together.
"It has been my great privilege to lead the Liberal Democrats at this crucial time.
"I inherited the leadership after two difficult and disappointing General Elections. But I take pride in seeing the party recovering strongly, with last year's local election results the best in 15 years, record membership and a central role in the People's Vote campaign.
"And long after my period as your Leader ceases, I will continue to work with you and my successor to make sure the Liberal Democrats are at the centre of Britain's rapidly changing politics. By building a movement of voters who share our values, we can help rescue the country from a profound political crisis and give hope of a better future.
"Thank you for all your support."
It is perhaps no great surprise that Vince has made this decision - after all, it was widely mooted a few months ago that he might do so later this year. What is a little surprising is the timing, which seems to indicate he's taken the party as far as he could and implies defeat of sorts over the "People's Vote".
But I have no wish to discuss how the resignation could be better timed - it's Vince's decision. Various people paid tribute to his leadership yesterday: Tim Farron said: "I've been proud to serve under Vince's leadership since 2017. British politics is sadly lacking in wisdom, Vince has it in spades. You've done a great job boss. Thank you." Party president Sal Brinton added:"During his time as Leader, he has led the way in increasing public support for a final say on the Brexit deal and constantly been reminding people that our country's future is brighter as part of the European Union." Others have made similar comments about his good judgement, persistence and strong liberal values.
Few of us will argue that Vince Cable will go down as one of the great Liberal leaders. That is not a criticism of his leadership, far from it. His leadership has instead been focused on guaranteeing the future of not only the Liberal Democrats but liberalism as a political force. Vince inherited the party at a difficult time, after a disappointing General Election and Tim Farron's decision to resign in a way that can only be described as unhelpful. At the time, there were other potential candidates but no-one willing to put themselves forward for the leadership. Vince deserves real credit for what he has done in a short time: growing the membership, making a distinctive stance on the EU issue, championing a people's vote, and overseeing some spectacular local election successes. He was also leader, like his predecessor, at a time when our limited parliamentary numbers mean the media are not necessarily picking up on our messages, makin
g his task more difficult.
What Vince has been is solid, dependable and forward-looking. His intention was never to serve for a lengthy period of time, but instead to ensure that his party not only survived but could be passed on in a better condition than he inherited it. His concerns were always for the values he so closely identified with. And so, for everything you've done - thank you Vince.
There has already been the inevitable speculation within the media about who Vince's successor might be, and whether this question has already, effectively, been determined rendering any election a mere formality. I do not wish to comment on this other than to say that I am confident there will in fact be an election and, like Tim Farron v Norman Lamb in 2015, will be closer than many suspect.