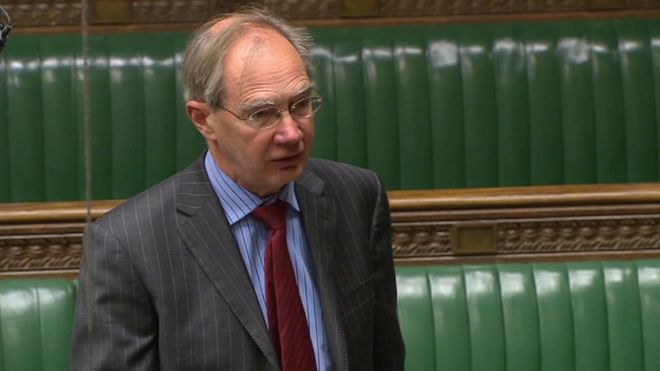 Andrew Turner (Photo: BBC)
There's been a bit of controversy recently surrounding what Tim Farron thinks, or perhaps does not think, of homosexuality. But if a sense of perspective was needed today it has been provided by a Conservative MP apparently intent on demonstrating that there remain in the Commons some truly intolerant voices on LGBT issues.
In a remarkable story, Andrew Turner - who has been the MP for the Isle of Wight since 2001 - has decided to
stand down after making what have been widely interpreted as "bigoted" comments
.
At lunchtime today Mr Turner attended a school to talk to an A level politics class. Asked an innocent question about whether he has supported the work of the local Pride, he responded with "homosexuality is wrong and a danger to society". One of the students present, Esther Poucher, left the room in protest and shortly afterwards wrote a detailed description of the event on facebook - as a result, just a few hours after what should have been a straightforward Q&A session, the MP has been forced to resign.
Esther's facebook post stated:
"So today our conservative MP Andrew Turner came into our A level politics class to let us ask him questions about his work. As a passionate campaigner for LGBT rights, and basically just a decent human being, I decided to open up a discussion about Isle of Wight pride. I asked him if he'd had any involvement in the event, and his answer has truly shocked me to the point of outrage. He told us that he'd been invited, but wasn't intending to go. This is because (and this is a
...
direct quote) he thinks that homosexuality is 'wrong' and 'dangerous to society'. At this answer, I had to leave. It's terrifying that in this age and point in our development as a society, there are still people that can't care enough about a person's wellbeing to just accept who they are. And the most terrifying thing is that we as an island consistently vote him in to represent us. Well fuck that. HE DOES NOT REPRESENT ME. He never has, and never will. If there is anything I can give to you from this, it is that we need change. We can't wait, and we can't just nod politely and respect and opinion like that. Yes, we all believe different things, and that's wonderful. But when that belief treats a group as sub-human, and attempts to take away their fundamental rights, we can't respect it. I'm done with people not standing up and fucking shouting about what's right and not campaigning for justice. To those over 18- please do the right thing, and vote in a government that works for a society of diversity and acceptance. Don't be complacent."
It's difficult not only to disagree with that but also not to recognise the passion and sincerity behind it.
But what is truly astonishing is the outcome. Firstly, from the perspective of someone who grew up at a time when such views were considered normal, it demonstrates unequivocally that we've moved beyond that. No longer is treating LGBT people as a "danger" acceptable. That alone feels, to me at least, something worth celebrating.
But, even more significantly, Mr Turner's downfall is amazing because of how it happened. There probably hasn't been a quicker fall from grace since the crowd turned on Nicolae Ceausescu during a speech in Revolution Square and the speed at which a comment led to resignation is stunning. Confident in his being returned to what has become a safe Tory seat, Turner was expecting to win another term as the island's MP - although there have recently been
calls by opposition politicians
to select a single "progressive" candidate to stand against and hopefully oust him.
In the end, it wasn't political machinations, alliances or electorates that ended Turner's 16 year parliamentary career but the fact that a group of school students, who don't even have the right to vote, stood up to bigotry. And they did so using social media - uniting local people and organisations against Mr Turner in a way no other politician has been able to.
Never think you can't make a difference. Never.

And to Esther Poucher (and her friends) - you are truly amazing! Thank you so much for standing up to bigotry, and just being fantastic human beings.